Joined

Jan 17, 2010
Location
Guess I could update the first post after 8 years, huh?
It's got a V8 now. Does skids. Makes cool noises. Causes great confusion among the appalachian car boomer population that only knows a Holley Double Pumper on a TreeohFive in a Chevelle.
2000something LM7 5.3 (iron block)
706 Heads
SS2 cam
Stock PCM/HPTuners
Camaro T56
Ford 8.8 Rear
400lb springs/Koni Race inserts in the front
250lb springs/Chevy Suburban shocks in the rear (blech)
Kerplunky v.0.0.0.1 camber plates
DIY adjustable endlinks
STS machining Delrin front control arm bushings
25mm IPD bar in the front, stock in the back
Wootbar<sup>TM</sup> strut brace
Falken AZENIS RT615K+, 225/45-17 front, 255/40-17 rear.
17x8.5 et30 with 32mm adapter in the front, 17x10 et20 in the back
Current Shot
Circa 2011:
I'm just getting going good on my project, so I figured that this would be a good time to start a project thread to help keep track of things. First off, the back story.
About 20 years ago, my family had a '74 BMW 2002. The car was my dad's daily and never ceased to be troublesome. When it came time to axe that car, it was driven to Atlanta and sold for like $1,500, which at the time was a king's ransom for a barely running 2002. In exchange, my mom and dad bought this '79 244. It had been found by my uncle, who was given the car by his mechanic. My uncle then put approximately $1,000 into it getting it running good again.
Then
, the owner showed up at the shop demanding his car back...the car had been sitting for 2+ years because of unpaid shop fees, and had legally become the property of the shop who had given it to my uncle. My uncle then found and contacted the original owner, who had believed he was doing a good thing by giving the second owner the car as cheap transportation. After weeks of angry phone calls, my uncle and the original owner convinced the second owner that giving his clothes out of the trunk (that had been in there for 2+ years as well) would be a suitable substitute for the car itself. After all this, my mom drove the car back to Charlotte, where it lived for the next few years.
We used the car for awhile as a spare and occasional daily, and when I turned 16, it became my car. I started to mess with it a little; fixing nagging issues, sprucing up the interior, etc. I drove it through high school stocky stock until a friend of mine rolled a stop sign behind me and cracked the passenger side taillight and pushed in the rear valance. A friendly insurance adjuster gave us $1200 for the car, and totaled it. We kept the car.
The insurance money purchased another Volvo, our '97 855. For about a year, the '79 sat at my grandfather's house in Huntersville. I would go over there occasionally and start the car and drive it a little just to keep things in working order. Christmas of 2010, my dad took the car to a local independent Volvo mechanic, and he got it running again. At last I was back with
my
car.
I drove the car for about a year until April 2011, when the K-jetz finally bit the dust. A faulty ECT sensor caused the car to run like complete crap in closed-loop mode, but like a bat out of hell in open loop. Instead of throwing more money at a 30 year old system, I decided that it was high time to start my project.
Parts started being accumulated, and plans laid out. The ultimate goal for this car is to have a fun, streetable weekend car that will suprise 5.0 fords and F-bodies on the road. Huge power isn't my ultimate goal. A fun, solid, well handling, quick car is.
The base of the build is below:
'93 B230F block (got it)
Ported/polished 530 head, possibly with larger valves. I haven't made that decision yet. (Have head, needs to be assembled)
RSI Stage II Turbo cam (still need. I hate I missed the sale)
Megasquirt MS3X (almost saved up)
90+ Manifold (have)
15G (have)
Ford WC T5 (Purchasing from Vince/TerribleOne. Deposit sent)
Modded G80 rear (have gears, need to mod)
Billys all the way around (still need)
IPD SS brake flex lines (have)
Yoshifab DSM CAS adapter (have)
And a bunch of other stuff I've probably forgotten.
As far as a timeline, I'd love to have the car driveable by SE-X, but if not, it's not a big deal, It'll just have to wait another year to be heebed.
Anyway, on to the pics.
Spring break, the garage in my grandmother's basement was cleared as much as possible, and the car moved in. Below are some pictures of the limited progress. I've only been home from school since Sunday. Planning on yanking the B21+M46 this Sat/Sun. Stay tuned for K-jet selloff.
Car in the basement. Fvuck that support post.
Ewww dirty block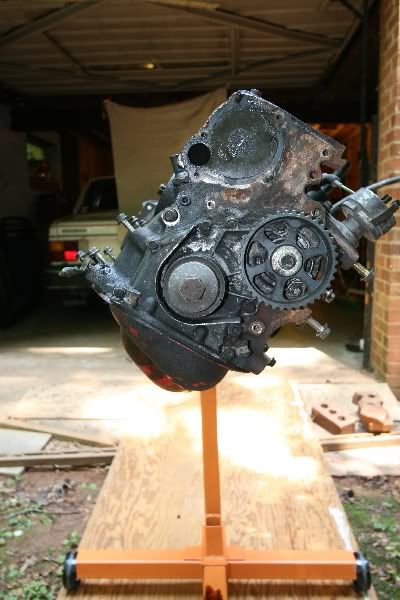 Several hours later...mostly clean. Still some touch up to do.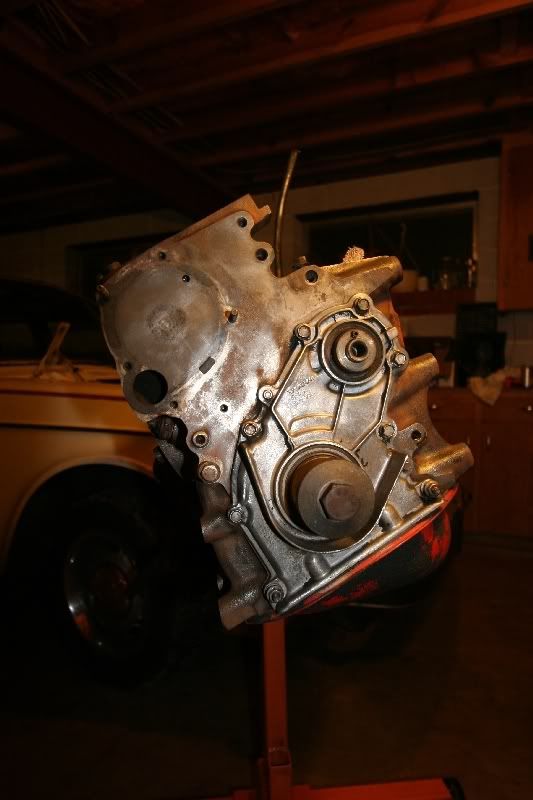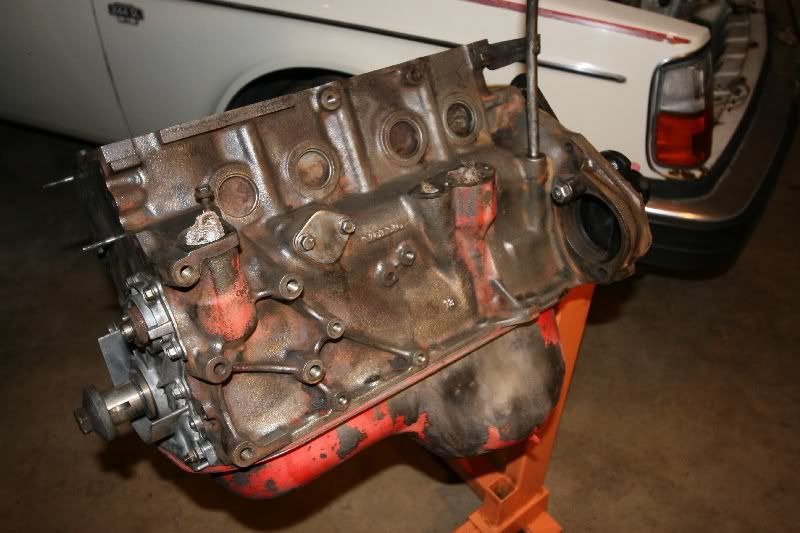 Everything was cool til this...took out the drain petcock to mount my 93+ oil cooler, and the port was clogged.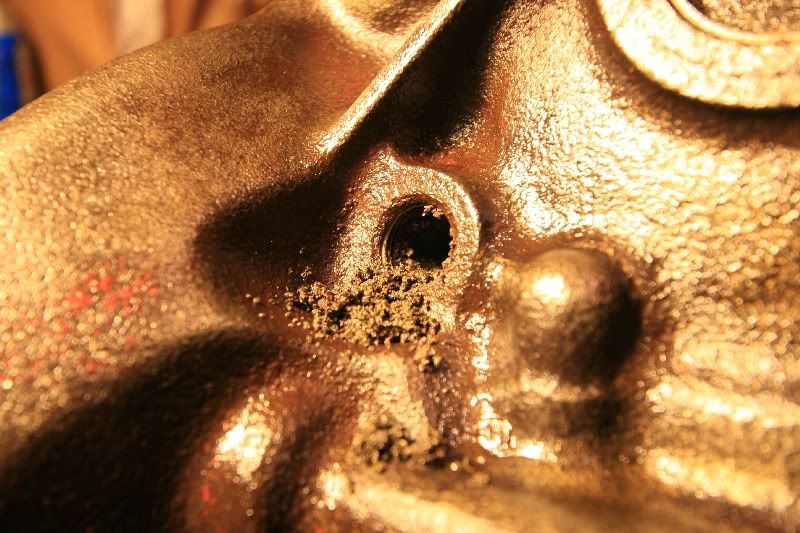 Parts shelf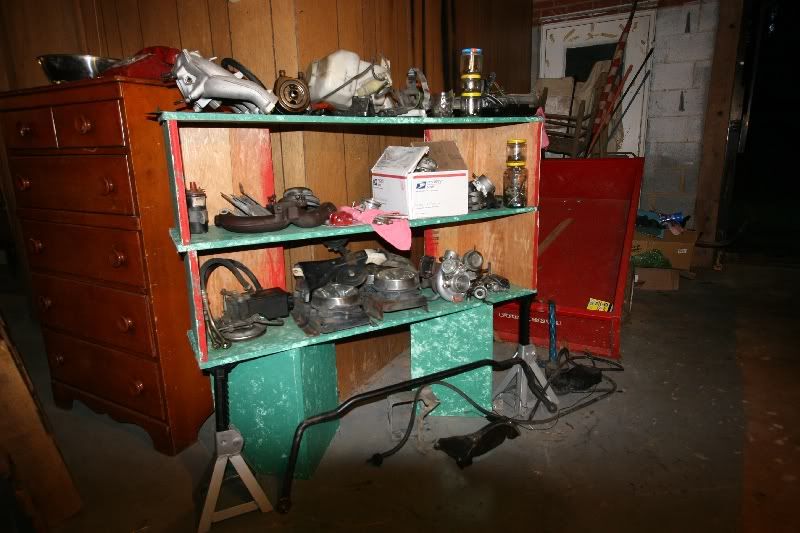 GM coil came today! Yay!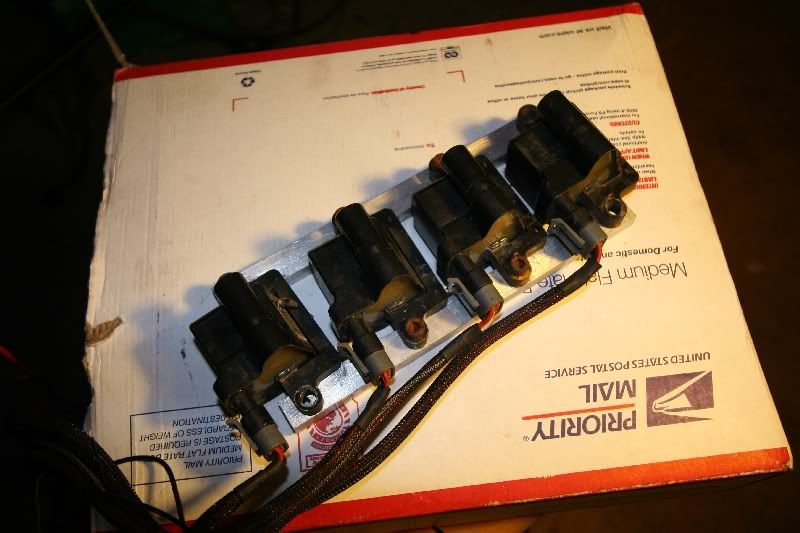 Boo...
And that's all for now folks. I'm pulling the oil pan tomorrow to examine the innards and weld a drain bung in the pan.
Last edited: