Joined

Mar 14, 2023
Location
Welp I opened the connector up and couldn't really get the wires to seat well so I opted for a temp fix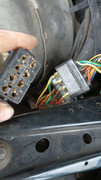 It started back up, fuel pump sounded off strong and I got to take off.. but the issue persists.
These cold days fool me because I can take off probably 100 yards and turn around but when I'm on my way back it bogs down and dies.
Seems like it happens soon as it gets up to temp, so I'm still wondering about the ECT or anything temp related.
I am aware of the wires from the ECT going to the ECU and the EZK.
I think I just repaired (temporarily) the wires going to the ECU. Under the drivers side?
So I'll be checking out the clips at the passengers side, hopefully catching the wire ECT>EZK.
Will keep yall posted